The TI-5260-PSP Permanent Magnet Rotor Lockup Switch and Instek Variable DC Power Supply combo provide a convenient, organized method for locking the rotor on permanent magnet brushless servo
motors. Locking the rotor is an essential step in static feedback alignment which is a crucial part
of PM brushless motor repair and testing. While the TI-5260 Rotor Lockup Switch can be used with a variety of power supplies, we recommend the Instek PSP-2010 for all the benefits it provides to the servomotor technician.
Click the link to video for setup and operation.
TI-5260 Lockup Switch and TI-5260-PSP Lockup Switch & Instek Power Supply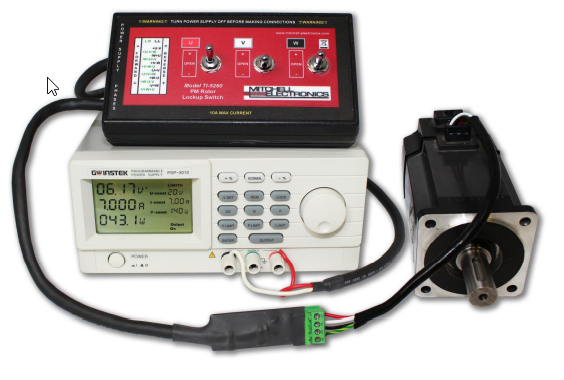 Connection to the motor armature leads should be made through an available Mitchell Electronics
power cable or a user fabricated cable terminating in a 4 pin terminal block to be plugged into the
TI-5260 armature connector. This same cable may then be plugged into the TI-3000JX Run Test
System which has compatible pinouts.
Instek PSP-2010 Power Supply Cable Connections:
Instek PSP-2010 Polarity TI-5260 Cable Wire Color
Positive ( +, RED) RED (Rev A and B)
Negative ( -, BLK) WHITE (Rev A) or BLACK (Rev B)

Armature Cable Connections:
4-pin Armature Phase Mitchell Electronics Cable Wire Color
U RED
V WHITE
W BLACK
GND GREEN/CLEAR
Instek PSP-2010 Specifications:
OUTPUT
Voltage: 0 – 20VDC
Current: 0 – 10A
VOLTAGE REGULATION
Load: ≤ 10mV
Line: ≤ 0.05%
CURRENT REGULATION
Load: ≤ 5mA
Line: ≤ 0.05%
RIPPLE
Voltage (mVrms): ≤20mV
Current (mArms): ≤ 10mA
RESOLUTION
Voltage: 10mV
Current: 5mA
PROGRAM ACCURACY
Voltage: ± 0.05%rdg ± 3 digits
Current: ± 0.3%rdg +10 digits
POWER SOURCE
115VAC±10%, 230VAC±15%, 50/60Hz
DIMENSIONS & WEIGHT
225mm (W) x 100mm (H) x 305mm (D); Approx. 4kg
OPERATION
Insure that the power supply has been properly connected to the TI-5260 as described in the preceding section. With those one-time connections in place, it is a simple matter to apply current to the windings and lock the rotor for alignment purposes. For more details on using the Instek PSP-2010, please refer to the included PSP-2010 product manual.

Some servo motors (especially those used on vertical axes or on robots) include a brake. The brake must be released with a separate power supply so that the rotor can move freely in order for the lockup current to move the rotor to the desired position. If the rotor will not move due to some mechanical restriction (broken magnet segment), excessive friction (tight oil seal or bad bearing), that problem must be overcome before meaningful lockup data can be obtained. In the case of an excessively tight seal, sometimes this can be overcome by increasing the lockup current to apply more lockup torque.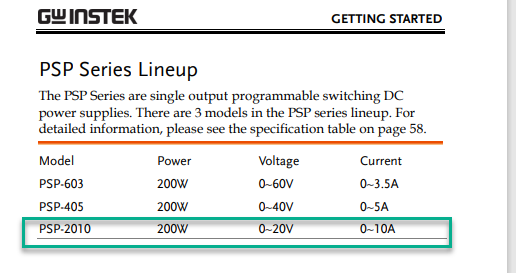 Manual Downloads:
Instek_PSP2010_User_Manual_EN_Rev_G_201702