For over a decade now, Fanuc has been making encoders that use a new serial protocol which we refer to as "High Speed" due to their faster serial data rates compared with the legacy Fanuc protocol. The High Speed encoders also have a new format of wiring that reduces the number of serial data lines. The legacy connection is what we refer to as the "4-Wire Data", like the TI-5047 uses. The new High Speed connection only uses 2 wires for serial data, like the TI-5750 uses.
The earliest serial encoders will only support the legacy protocol and 4-wire connections. Some newer encoders support both legacy and High Speed protocols and connections, while the newest encoders may only support the High Speed protocol and 2-wire connection. Unfortunately, Fanuc does not make it clear as to what protocol or connection is being used going by the encoder model label alone.
In general, if you find that our standard TI-5047 cable does not allow you to test a specific Fanuc encoder model, please try the new TI-5750 cable with the new High Speed encoder options before determining that you have a faulty encoder. We have added several new High Speed Fanuc selections to Athena on the TI-5000JX as shown below, highlighted in green. If your encoder is not showing any activity while using the TI-5047 test cable, and is one of the highlighted encoder models listed below, you should try using the new TI-5750 High Speed cable first.
We have also added a High Speed option to the Fanuc selection on TI-3000JX as well to fully support all possible Fanuc encoders.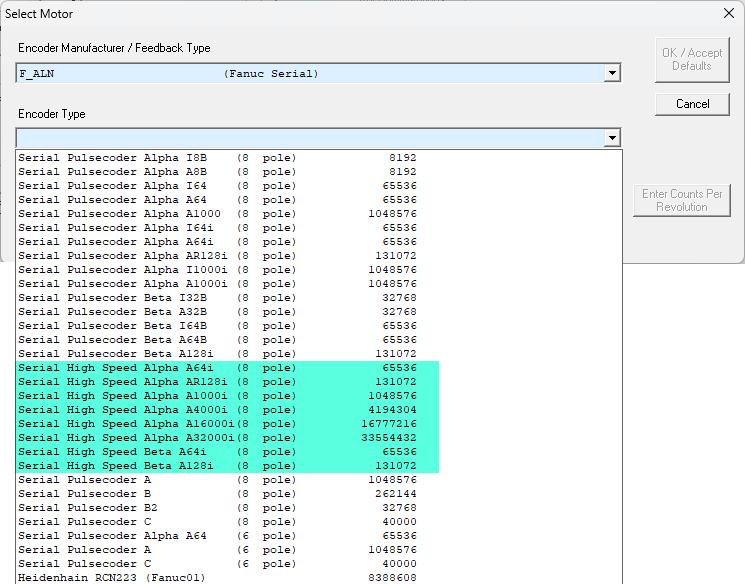 You may also be able to determine the correct test cable by inspecting the wiring on your motor's feedback connector. If pins 1 and 2 are not connected, then it must use the High Speed selection and the TI-5750 test cable. If pins 1 and 2 are connected, then the TI-5047 cable will be used.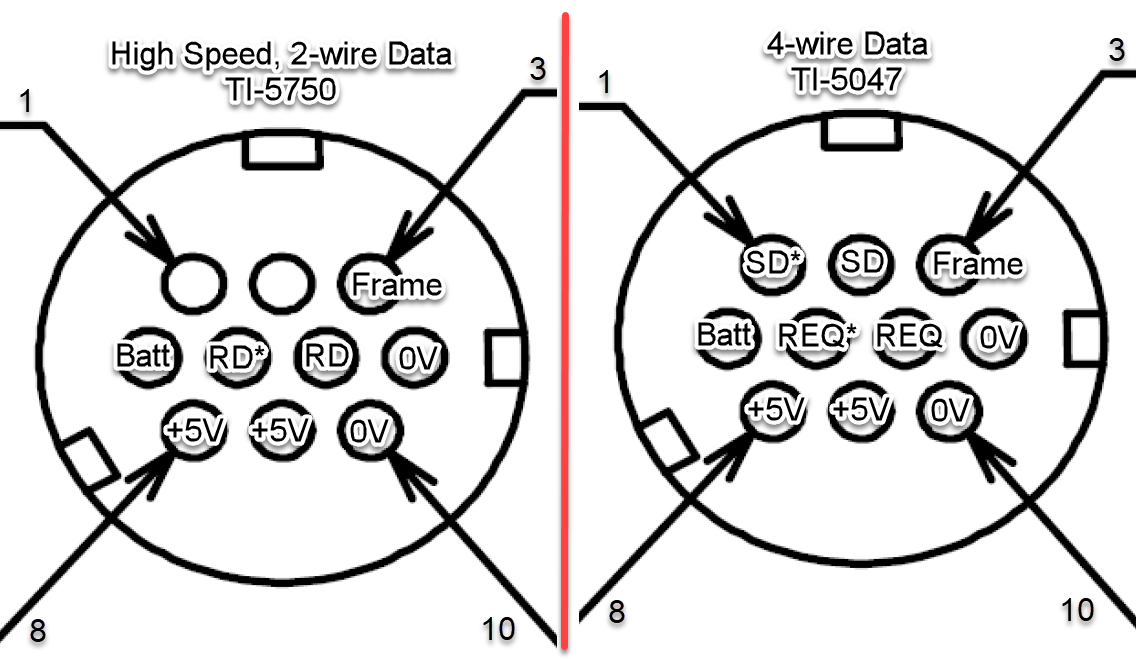 Here is the TI-5750 cable (2-wire data) to support the new
High
Speed
encoders.
Here is the standard TI-5047 cable (4-wire data)
See the
Training Manual
starting on page 59 section 2.6.2 for additional cable and software details.