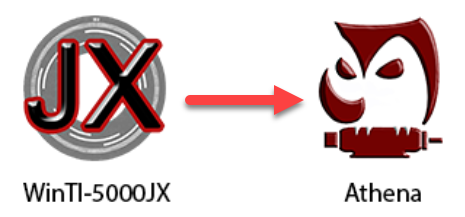 We're happy to announce the release of our newest PC software, Athena. We've spent the past couple years transitioning our old WinTI5000JX software into this new environment that will allow for more advanced features and quicker incremental software updates. Below are some of the new features that are part of this total system update.
TI-5000JX New Encoder Support
Yaskawa serial: SIGMA II, III, V, and 7 (Contact sales for Yaskawa pricing)
Fanuc High Speed serial: Beta A64i, Beta A128i, Alpha AR128i, Alpha A4000i, Alpha A32000i
Tamagawa serial: TS700 series
Currently in development:

Hengstler ACUROlink serial protocol (used on some Rexroth MS2N motors)
Siemens DriveCLiQ
TI-3000JX New Run Test Support
Generic BiSS: AD36-0019, AD36-1219, AD58-0022, and AD58-1222
Generic MFE: MFE0011, MFE0017, MFE0020, and MFE0023, and MFE2500P8NX
Generic Tamagawa: TS5643N110, TS5645, TS5647, TS5648N102, TS5667, TS5668, TS5669N221, and TS5700N8401
Allen Bradley VP > Hiperface DSL selection is updated to read unique commutation angles from the encoder memory. (Contact sales for DSL pricing)
Currently in development:

Incorporating AMC's newest Digiflex series of drives using closed loop run testing. This provides the ability to command speed and lockup the motor directly from the TI-3000JX keypad.
Yaskawa serial run support.
Athena Upgrades
Updated resolver software now uses slider bars to quickly adjust voltage and frequency settings.
Support for reading Allen Bradley VP series memory files with non-standard commutation alignment. (Contact sales for DSL pricing)
Updated vector level ranges for all 1Vpp Line Levels tests.
Updated Count Test display for all encoder selections to more accurately report expected and actual counting results.
Currently in development:


Ability to transfer setup information from Athena to the TI-3000JX for faster run test setup.
Ability to save and search for motor datasheet setup and alignment data for every motor job.
Memory Programming support to include searching our Bobcat database of memory files for all supported manufacturers.
Please contact us at support@mitchell-electronics.com with any questions. We would be happy to schedule a quick online session to showcase the new features.